OUT OF HOME MEDIA
Our early mission was to seek unique ways to increase brand visibility and reach – thus the Jam Van was born. Our high-bright billboards stand out in the crowd and capture impressions day and night.
Today we continue with the tradition of uncovering and providing out-of-the-box media assets to connect with audiences on masse or in locations difficult to reach with standard outlets.
Our agency also seeks the newest technology and develops strategic solutions to integrate with digital channels to extend the conversation continuum from awareness to intent.
CASE STUDY
UNIVERSAL STUDIOS MEDIA CAMPAIGN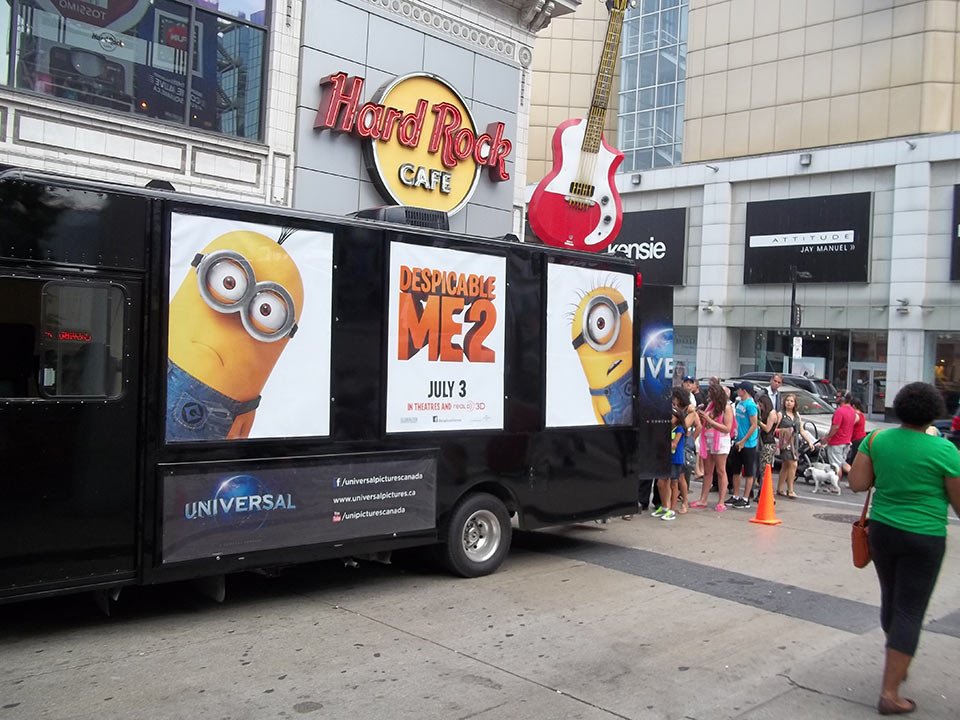 CHALLENGE
Drive cost-effective reach for annual film line-up
SOLUTION
Multi-month media buy
Leveraged Jam Van vehicles with COMB measured media* to support Toronto market
Conducted daily city driving on high-traffic routes for mass impressions
targeting special events to reach niche audiences
Provided turnkey solution from production, to venue access and scheduling, to promotional item distribution
RESULTS
175,800
measured daily impressions in GTA
21,100,000+
impressions in 120 days, each year
10,000+
promotional items to target-right consumers
Extended
reach through online contests
Unique
sharable content via Facebook, Instagram and Twitter generated
$83,640
total site fees saved each year